Materials for bag production
Our production process is split into a variety of product categories, with that, the materials which we use are specified for every category. Having said that, here we present our materials that are used for every group of products:
ARTIFICIAL MATERIALS
POLYESTER 600*600 d, POLYESTER 300*300 d
Sports bags, school backpacks, sport backpacks, business bags, promotional bags, cosmetic bags and kits, medicine bags, beach bags, hunting equipment and a variety of bags for special purposes. The combination of colors is unlimited.
AVAILABLE FABRIC COLOURS:
All of our polyester and polyethnic materials can be coloured into any shade that is registered in the international register of colours on the PANTENE scale at the request of the client.
Here we are showing you just a part of the colours in which we usually print the materials.
NATURAL MATERIALS
ECO
COTTON 135gr. NATURAL COLOUR
Cotton fabric bags for promotional activities, ecological actions, aprons, etc.
AVAILABLE COLOURS:
COTTON 220gr COLOURED NATURALLY IN 25 COLOURS
Cotton fabric bags for promotional activities, aprons, etc.
AVAILABLE COLOURS:
NATURAL YUTA LAMINATED 200gr
Bags made form Yuta are produced in six colours. The materials are laminated and therefore waterproof.
AVAILABLE COLOURS:
ECO FABRIC, RETEX
Eco fabic is used to produce cheap promotional bags for carrying over the shoulder and for carrying in the hand.
AVAILABLE COLOURS: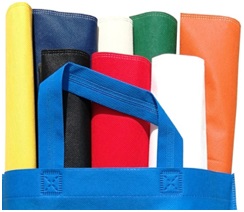 In our warehouses we have over 100 000 meters of different types of materials, so that in every moment we can respond to the requests of our clients.